All I ever wanted to do in life was to come to Afghanistan and go on many picnics, and now I am living my dream. Here are the dudes on the Salang river after an awesome picnic yesterday. Parwan province and various patches north of Kabul have a good security situation for now, perfect for picnics.
I ended up drinking a lot of water from the Salang river which I'm assured is direct from the Himalayas and fresher than any bottled water. So far so good. We ate the best kabobs procurable by the river. There was a lot of good food to pick up on the road home, too: crazy ice cream, gooey fried bread with green onions called "buloni", and a sour milk/cucumber drink to refresh and revive.
The day before that I was allowed a rare hike to the top of the Bala Hissar fort with the aforementioned British altruists. It was a strange place; its strategic value was obvious, as the view encompassed the city all around. In fact the Afghan army intelligence school is located up there, and I met some retired military good ol' boys who are contractors now and who teach there. There are supposedly still mines and other hazards off the beaten path, but everyone was careful. UXO (unexploded ordinance) and blown-out tanks from the last battle (the taking of Kabul in 2001) littered the grounds.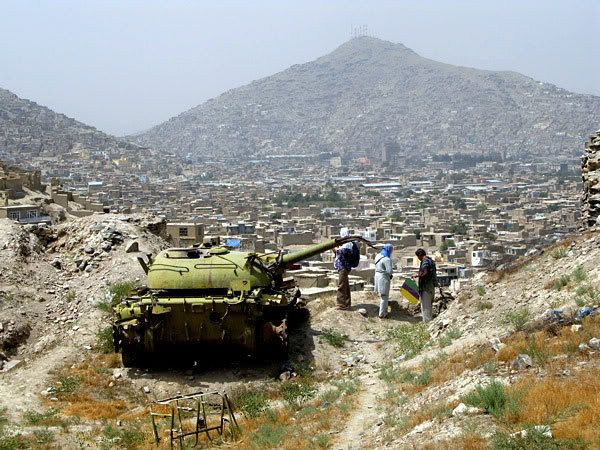 We then descended the hill and took photos of the fort from below, where a graveyard strewn with the green flags of the martyrs creeps up the embankment towards the fort's walls.
Later that evening, a garden party and a speech from the British ambassador. It was completely surreal.
One Response to 'The Salang Pass and other Picnics'
Leave a Reply